Studio d'enregistrement
GAW ! RECORDINGS >>


MAIL:contact@gawrecordings.com
PHONE: +32 498 20 58 85
WHAT ?! >>
ABOUT > Gaw! Recordings is a recording studio that is located in Belgium near Lille (France), TOurnai (Belgium) and the french boundary.

You can record there songs for a good price with high quality!
The studio works with live rock bands as much as VST/midi programming & production (rap, hip-hop).
The sessions are conducted by a skilled sound-engineer having a SAE degree in sound techniques (SAE INSTITUTE).

The quality of our work has been recognized many times!

What we mainly do is:

- Recording and mixing a voice on a stereo song file (.WAV ou .MP3)

- Recording and mixing rock (or any kind of music) bands (guitars, bass, drums, strings, etc.)

- Producing / programming / mixing beats made with MIDI / virtual Instruments projects (ost, hip-hop, etc.)

- Mixing any multi-track project previously recorded elsewhere

- Mastering and/or support for mastering


We're specialists in Hip-Hop projects and Rock (in the broad sense) projects.

But we can also help you with a lot of other activities:

- Voice-over
- Sound Design
- Audio-guide recording
- Podcasts
- Mixing
- BEATMAKING
- Ads / radio spots
- Telephone music-on-hold composing
- Creation of jingles
- Samples Replay/ Re-recordings (replaying, changing, etc.)
- Audio Restoration
- Live sound system
- Composing original soundtracks
- etc.

Do not hesitate to contact us concerning any SOUND project !


We work on a lot of album projects each month (recording, mixing, mastering, photography, graphic design and CD Replication).



The studio is based in a youth center(LA FREGATE ASBL) and is destined for:
- young musicians and rappers from the area looking for a first demo.

- professionnal artists around the world (USA, France, Belgium, Japan, South Africa, Greece, Italy, India, etc.) achieving biggest sound projects.

Because we work very closely with an non-profit organization, we approach music like the cultural associations: we do not place profit above all else, putting a focus on the friendliness and the passion for music!
The youth center and the recording studio worked together on many well known musical projects supported by belgian cultural institutions.

Moreover, the record label Gaw! Bastards Records associated to the studio helps artists by publishing them on mixtapes (replicated Cds) and freely available each year.
---
EQUIPEMENT >>
CONSOLES

SSL NUCLEUS


Panasonic Ramsa WR-DA7 68 channels
Panasonic Ramsa WR-ADAT (x4)

PREAMPS

Chandler Limited TG2 Abbey Road Edition
Great River MP-2NV
Neve 1073
Universal Audio 2-610
Focusrite ISA 828
SSL SuperAnalog

COMPRESSORS

Publison CL20C
BBE Sonic Maximizer 822
API 2500

COMPUTERS

Mac Pro Intel Xeon

SOUND INTERFACE

SSL Alpha Link MADI SX
SSL MADIxtrem 64

SEQUENCER

Logic 9

MICROPHONES

AKG C414
AKG D440
sE Electronics SE2200A
sE Electronics Z5600
SHURE SM 57
SHURE SM 58
SHURE BETA 52
SHURE BETA 81
AKG C451
NEUMANN KM 184
SENNHEISER e906
EV RE-20
etc.
...

MONITORING

FOCAL SOLO 6
FOCAL SUB 6
FOCAL SUB 6
Presonus CentralSation
SONY MDR-7506
BEYER DT880

BACKLINE

- Philips SENSEO®

- Guitares, basses, batteries, amplis, etc.
Disponibles sur demande!
RATES >>
TO ACCESS TO THE STUDIO, YOU WILL NEED A MEMBERSHIP CARD - MJ LA FREGATE AVAILABLE FOR ONLY 7.50€ (VAT INCLUDED) PER PERSON / PER YEAR.

- Enregistrement / Mixage

60€ VAT Included
per hour

225€ VAT Included
per half-day (4h) digital mastering of the work done during the half-day included

350€ VAT Included
per day (8h) digital mastering of the work done during the day included

- Digital Mastering
Ideally suited to the first demos and low quality websites (Myspace, etc.)

40€ VAT Included
per track

- Analog Mastering
Very High Quality!
Made by a specialized audio mastering engineer.
Highly recommended for professional projects with a large audience (CD replication, video clips, etc.).


75€ à 500€ (depending on the studio and the engineer you choose) VAT Included
per track


Notes :

1) Recording one song takes usually between 3 and 8 hours.

2) Any recorded song needs a mastering to be broadcasted (Myspace, Itunes, Radio, CD, etc.).

- CD Replication

On Demand !


Ce n'est pas clair?
Do you want an offer or do you just want to talk about your project and its feasibility ?

Contact us for more info or to receive a customized offer.

ARTISTS >>
LINKS >>
The studio opens by appointment only and booking : 50€ per hour or 300€ per day.

Please book the studioat least 2 weeks in advance.

Thank you to write use-mails instead of telephone calls to contact us!

We don't hear the phone rings when we work in the studio!

But we check our e-mails each free time we have!



MAIL:contact@gawrecordings.com
PHONE: +32 498 20 58 85

USEFUL INFORMATION >>
- Before the recording session

The best way to optimise your studio time is to be well prepared!
How many times studio hours are wasted by trying over and over again to play perfectly a small part that could have been prepared before the recording session!

A recording session can not be improvised! Try to plan it well a long time in advance to make it a complete success! Have enough rehearsals to feel confident on the recording day. Don't hesitate to ask us an appointment to talk about evrything for your project and our technical capacities.

Don't forget to review your gear before coming in the studio (lutherie, strings, drumsticks, drum skins, tubes, etc.) If you are a guitarist, change your guitar's strings several hours of play before the big day; if you are a drummer, change at least your snare top skin and bring enough new drumsticks! think about everything you will need the recording day

Don't forget reserves of drumsticks and guitar strings. You won't find a shop that is open if you record on a sunday. Avoid any unexpected things, and so, any stress !

- During the recording session

Accomodation

The BEST WESTERN ALIZE BELGIUM, 1km far from the studio, will welcome you after a long day!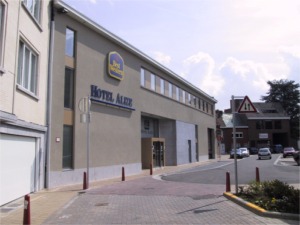 More information...


Meals

During a recording session, a 1 hour break is planned each lunchtime to allow the bands to relax and regain strength!
There are many possibilities to eat around the studio : Snacks, Sandwiches, Pizzas , or typical belgian french fries : there's something for everyone !

Musicians who needs to be immersed in the recording session can also bring a lunch box and we have a oven/microwave for dishes to be reheated!

Moreover, the Youth Center bar will always be open to you and will serve you non-alcoholic beverages at reasonable prices!
The benefits of this bar will directly contribute to the sports and cultural projects of th eneighbourhood youth !


Pacing Yourself

It is not unusual to see artists willing absolutely skipping a meal to work on a very difficult part or willing staying up late to finish a song they start the work for in the beginning of the day.
However, an artist endlessly putting his nerves on the edge will be less productive than the artist who allows himself breaks.

We have a place for the artists to relax after tiring hours of work, the youth center bar is open for them: candy, chips, chocolates, traditional toasties, fresh drinks (without alcohol) are just a few examples of what you can find at the studio.
In the end, don't you think it's better to be productive and relaxed at the same time?

Allow yourself some breaks during the day, 10 minutes are enough to clear your head and have a more objective opinion on a crucial point of your recording session. Take your time to work well, you won't record in a studio every day… There is no point in rushing.

- After the recording session

during the recording session, it is not always easy to hear everything at the first listen... After hours of work, musicians lack an ovreall picture to analyse the sound information they receive.

That's why, if you were not fully satisfied with a song you recorded at the studio, if you missed a small detail at the crucial mixing time, if later after the playback of your song you are finally not convinced by an effect or something in your song, etc., We offer an 'after-session' service that will give you the opportunity to make some small changes on your songs FOR FREE !

Obviously, this is not about taking advantage of this service to re-record or re-mix a everything in a complete song or album but it's just the opportunity to reach the perfection and be finally wholly satisfied of your songs at the end of the recording session without surcharge!

SEE YOU SOON !!